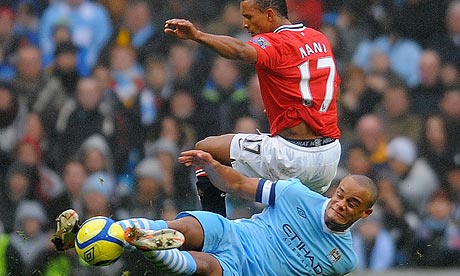 I attempt to 'tackle' the ludicrous claim that football is supposedly in danger of becoming a "non-contact sport".
Written by Matt Scrafton
-------------------------------------
In the wake of Vincent Kompany's red card in Sunday afternoon's Manchester derby, we've witnessed a resurgence of that old repetitive favourite of the washed up ex-pro turned pundit: "football will soon become a non-contact sport".
During tonight's coverage of the Manchester City vs Liverpool League Cup tie, BBC pundit Mark Lawrenson made that exact suggestion when referee Lee Mason made a wrong call. Or to phrase the ex-Liverpool defender word-for-word, "we might as well make football non-contact now and get it over and done with".
Now I can't recall the incident itself, but clearly all this fuss has emerged after Kompany's supposedly 'contentious' two-footed lunge on United's winger, Nani. Now I don't see what was 'contentious' about it at all, the Belgian centre-back took both his feet off the ground and won the ball with both of his feet. The fact that he won the ball cleanly is completely irrelevant, as the law clearly states a two-footed challenge is an automatic red card.
Now, whether or not you agree with that particular law or not, the referee was 100% correct with his decision. Of course, there are those bizarre individuals that suggest that referee Chris Foy should have used his "common sense", considering no-one was hurt. But then, Foy would have been disciplined by his superiors for not doing his job properly. Ah, a real case of catch-22 here then...
Well, not really, seeing as Foy applied the letter of the law. And in this instance, I consider this particular ruling to be entirely correct. Two-footed tackles increase the likelihood of injury to the opposition player. Not only that, but they've never been a
natural
way to tackle. During my 15/16 years of amateur football, not once have I ever made a two-footed challenge, and nor had I ever felt the need to. Firstly, you're not taught to, and secondly, it takes a hell-of-a-lot more effort to force both feet off the ground to lunge into the challenge.
So let the dinosaurs cry about the death of their beloved game, although in reality no such thing is happening. I like a good strong challenge as much as the next person, and they can still play a significant role in today's game. But a two-footed challenge has, and never will be, a "good strong challenge". Instead, it's a completely reckless way of winning the ball and on behalf of the individual who commits the 'crime', an act of stupidity. For once, the referee should be commended and the footballer should be ridiculed. But no, footballers never make mistakes do they?
Going back to tonight's game at the Etihad Stadium, Liverpool full-back Glen Johnson committed a two-footed tackle towards the end of the game. The lunge was just as bad, if not worse, than Kompany's. No action was taken by Lee Mason at the time, but it'll certainly be interesting to see what stance the FA take on the incident.
Oh and while I'm on the subject, just because a player "wins the ball" doesn't mean he still can't commit a foul. I think some people need to brush up on their knowledge of the rules, but maybe that's a completely different argument for another day...