Tottenham winger Gareth Bale awarded PFA Player of the Year, ahead of Nani, Samir Nasri and Nemanja Vidic. Whilst team of the year has some glaring omissions too.
Written by Matt Scrafton.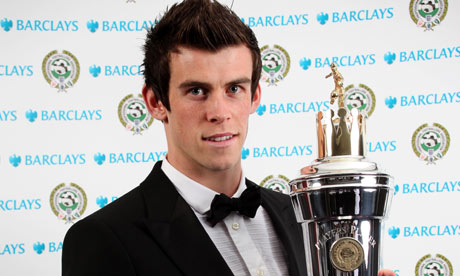 Two years after Ryan Giggs was farcically awarded the Professional Footballers' Association Player of the Year award, the PFA have once again given the decoration to a player who was wholly undeserving of the accolade. Ryan Giggs' Welsh compatriot Gareth Bale has been named the Professional Footballers' Association Player of the Year. The 21-year-old beat off the competition from Samir Nasri, Nemanja Vidic, Charlie Adam, Scott Parker, Carlos Tevez and Rafael van der Vaart to win the supposedly coveted award.
How did they manage to get it so, so wrong?
Once again, it has been proven that the media's hype machine has far too much influence when it comes to footballing opinion. Gareth Bale (I initially typed Gareth Barry, now that would have been a joke!) is undoubtedly a very good player, but the best? He hasn't even been Tottenham's best player this season; that particular accolade belongs to Luka Modric, and I could even argue a case for Michael Dawson or Rafael van der Vaart (although his second half to the season haven't matched his earlier performances).
And if Bale is player of the year, how can he not be young player of the year too, given he was also nominated for that category?
In terms of statistics, Bale has managed 7 goals and only one assist. Compared to Nani's 9 goals and staggeringly impressive 18 assists. So that suggests, to me anyway, that Bale's inclusion perhaps has more to do with his Champions League performances (well, a hat trick against Inter that eventually proved meaningless anyway) than his stellar Premier League contribution. Of course stats don't present the whole picture, but I'm of the opinion that Nani has been far more deserving of this award than the Spurs' winger. And I wouldn't stop there either, both Nasri and Vidic have been far more consistent over the course of the season.
I know what you're thinking, "yeh but the awards are voted for in January, not now". Then why is that? The votes should be made at this point in the season, with the results announced a few weeks later. Makes logical sense, doesn't it? Instead, players are handed their voting sheets in January, and to quote Michael Owen's Twitter comments, "I do think voting should be put back 2 months. Only half the season has gone when we post our vote. We definitely vote too early". And christ, you know the problems are glaringly obvious when you share the same opinion as Stan Collymore; "Not saying any of the winners haven't had good seasons, but do it Aug-May or don't do it at all. Problem is, ballots are given out and done as a bit of a giggle in the dressing rooms".
There is one argument that suggests this award is more accurate and honourable, as it's voted for by the players themselves, and not journalists, or fans. In that case, that only serves to prove that most footballers are stupid (something we already knew, to be fair). The PFA awards have always been flawed. Predictably, players vote for the well known players. Add that to the fact that it's voted for in January, means it shouldn't be considered as significant as it currently is.
Team of the Year did not contain main nominees Parker, Van der Vaart or Adam
This caption neatly brings me on to the PFA Team of the Year. Firstly, Edwin van der Sar has had a good season, but has he been especially brilliant? I'm not so sure. Or has he just been more talked about recently due to his oncoming retirement? Apologies for being cynical, but I'd go with the latter, personally.
Ashley Cole and Bacary Sagna are hardly hugely incorrect choices; as they're both brilliant full-backs and are arguably the best two in the Premier League. Vidic and Kompany's inclusions are a given, as well. Wilshere has had a great season and has stepped up another level following his successful loan spell at Bolton, and is certainly deserving of his Young Player of the Year award (although if you're going to place Nani on the shortlist, which he shouldn't as he's too old, then he should have won it).
Not that my opinion counts for much, but this would have been my personal choice (if they insist on using 4-4-2):
GK - Ben Foster (Birmingham)
DR - Stephen Carr (Birmingham)
DC - Nemanja Vidic (Man Utd)
DC - Vincent Kompany (Man City)
DL - Leighton Baines (Everton)
MR - Nani (Man Utd)
MC - Scott Parker (West Ham)
MC - Luka Modric (Tottenham)
ML - Samir Nasri (Arsenal)
ST - Carlos Tevez (Man City)
ST - Dimitar Berbatov (Man Utd)