Sunday, 23 January 2011
Written by Matt Scrafton.
Why do we continue to persevere with such poor standards of football analysis? Football is the most popular sport on the planet, yet why is British coverage of Formula 1 and Cricket infinitely superior?
Following today's allegations that Sky Sports presenters Andy Gray and Richard Keys made sexist comments towards the female lines woman during their commentary of Liverpool's 3-0 victory away at Wolves, it got me thinking - just why is it that our country has such low standards of football journalism?
Football journalism is in a poor way at the minute, preferring to employ ex-professionals to sit on their couches and in radio studios to discuss the latest happenings in the world of football. First of all I'd like to ask - what's the obsession with employing ex-professionals? Logically, you'd think the best pundits will be those who have played the game at the highest level

. But apart from the odd individual (I'm thinking Clarence Seedorf, Leonardo, Lee Dixon etc.), that doesn't appear to be the case. It's a depressing state of affairs when people like Alan Shearer are considered "football experts", and proceed to tell us how "a simple 4-4-2 formation is always the most effective" and how shin high challenges are okay "because the man won the ball". It's infuriating to think that goons like Shearer, along with his clueless pals Mark Lawrenson and Alan Hansen are declared experts of the game, when there are far more knowledgeable journalists that watch football on a world-wide scale, not just typical Premier League fanboys. Shearer may be clued up on Tyneside and possibly the English game as a whole, but does he really deserve the opportunity to voice his opinion on England's mainstream broadcasting channel? Renowned names in the world of football were 'foreign' to Shearer during the World Cup, would this occur in other sports? And it wasn't just Shearer, the BBC's coverage of the World Cup in general was an embarrassment from start to finish; it beggars belief that people that get paid massive salaries to basically watch football for the entire year, say things like "can't say I know anything about the Slovenian team". I do love Alan Shearer, he was my footballing hero when I was growing up and was a phenomenal striker, but as a pundit? Just no. The time when he and Alan Hansen were laughing over Karl Henry's attempt to break Joey Barton's leg on Match of the Day pushed me over the edge.
Compare the state of football punditry and commentary to that of cricket, and Formula 1; two sports that are far less popular than football. The pundits know their sports inside out, they are articulate, well-versed and not at all patronising when putting their balanced views across. They speak to the nation as informed fans of the sport; not a collective group of children that aren't familiar with basic concepts of a sport. The BBC are able to produce a fantastic coverage of Formula 1, with the informed views of ex-drivers Martin Brundle and David Coulthard, the somewhat erratic yet utterly compelling opinions of ex-team boss Eddie Jordan and a young, dedicated presenter in Jake Humphreys.
Is it too much to ask to have mainstream television and radio shows presented by someone like James Richardson? Or Gabriele Marcotti? Guillem Ballague? It would be great to have top journalists alongside ex-professionals to give a more rounded view of the game. I mean, look at the who the BBC have employed to lead their popular 606 radio phone-in show; none other than Robbie Savage. Apparently people find him entertaining? Can't say he does anything for me. But one thing I can say is; he's an ignorant buffoon. I once remember him commenting on Man City's Yaya Toure when sitting in the commentary booth during the Man City v Liverpool game; "I never knew this lad was this slow, how did he get in the Barcelona team?". It's damn right ignorant comments like that, that irk me and fellow like minded individuals. I'm not saying I'd make a brilliant pundit or commentator, but I'm only a casual fan who enjoys watching the Premier League, The Football League, Serie A, Bundesliga, La Liga amongst others; so I'm pretty confident I'm more informed than Savage.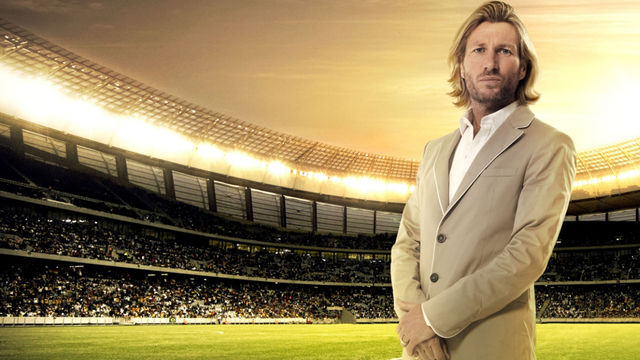 606 co-host Robbie Savage, a man that declares he "says it how it is"

The worrying thing for me is, the majority of the fans that watch MOTD take their word as gospel and spout the same drivel when talking to their mates down the pub, or whatever location they choose to discuss their beloved sport. I'd be the first to admit that Shearer is a terrible pundit, and worryingly ignorant; despite being my footballing idol since I was a young child. Hansen's terrible, so is Lawrenson. Mark Bright and Garth Crooks (once said Dover v Gillingham wasn't a real derby because no one really cares about the game) make for terrible viewing on the Final Score programme on Saturday afternoons. Even Lineker doesn't know much, but he's not a bad presenter so I suppose he get's away with it. The only guy I don't mind on the BBC is Lee Dixon, he's not too bad and seems quite clued up tactically, but
but has a tendency to just agree with the others on the panel, particularly to avoid conflict
.
It seems that a lot of people within football have a bizzarely arrogant attitude, suggesting that the bigger name you are, the more your opinion matters. I mean, it's not like we want to hear balanced, informed views about the game do we? We just want to be told the basics of the game by the most famous and talented ex-footballers available for comment. Oh no wait, that's wrong. Most consider BBC Radio 5 Live to be the best in terms of expert coverage of football in this country, and I'd probably go along with that too. Yet even they have Alan Green fronting their commentary team; a man who basically tells us how bad the game is and how bored he is. They're only ruining their own credibility by promoting their product with the likes of Green and Savage, and bringing them down to the levels of their main rivals; Talksport. Don't even get me started on the idiocy of that show

.
There is an answer to all this, of course. It's tough, but quality journalism is out there. It can usually be found away from the mainstream tabloids and television shows, and written by normal people like me and you. People who can effectively analyse, write in a diligent and well informed manner whilst not
patronising
the reader/viewer, or bending over for the bias of journalists whilst trying to keep in the good books of certain managers.
Good luck in your search for all this though, you'll need it.